Your beloved doll isn't doing so well? At the Götz DollClinic we do everything to take care of your doll, no matter what ache your doll might have .
Fill out the form with your parents and send us your doll, we will contact you immediately to inform you about the remedies for your Götz doll.

Important: An estimate of the costs (guarantee or chargeable) is only possible after your doll has arrived at our clinic and we have been able to check it through.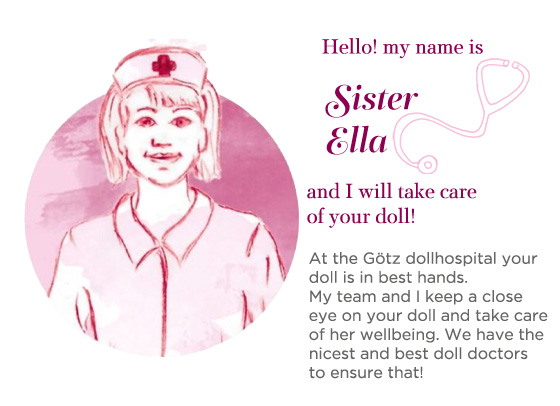 Here is what to do
Download the hospital admission for your doll here and fill it our with your parents.
Pack your doll well in a cardboard box and paper ( be careful, newspaper may stain, use tissue paper or wrapping paper) and send it to the adress on the registration form.
By providing a mobile phone number or email address, we will contact you when your doll has arrived at the doll hospital and sister Ella will let you know that your doll has arrived safely.
After a check be our doll doctors, sister Ella will send you an email, how we can cure your beloved doll and whether there are fees occuring or the treatment is free of cost. Via answerlink you can than specify whether we can go ahead or which treatment you like us to carry out.

Pack

your

doll

well

in

a

cardboard

box

and

paper

(

be

careful

,

newsprint

may

stain

,

use

tissue

paper

or

wrapping

paper

)

and

send

it

to

the

address

on

the

registration

form

.
Has your doll recovered, sister Ella will send it back to your adress sound and safe!