Doll prams & doll buggies - Multifunctional toys for doll parents
Doll prams have been a staple in children's rooms worldwide for decades and are a popular toy for doll mums and dads. For many children, they are an indispensable accessory for taking their beloved dolls and stuffed animals everywhere. Doesn't every girl and boy want to walk outside with their doll and have it with them everywhere? So doll prams or doll buggies are high on every wish list.

Doll's prams or doll's buggies are a timeless and popular toy that is very much appreciated by both girls and boys. It is close to Götz's heart that they can become an essential companion in early childhood and, due to their longevity, even heirlooms to be passed on from one generation to the next.

Whether a light and manoeuvrable 3-wheeled doll buggy or a classic comfort doll pram on four wheels - all designs at Götz resemble their larger relatives down to the last detail and are suitable for standing dolls and baby dolls, the one size fits all doll pram models from Götz, which are ideal for all doll sizes, have practical extras for doll parents depending on the design: soft handles, height adjustability or storage inserts. Doll's prams and doll buggies can be folded up and stored space-savingly with just a few simple steps.
Doll's prams: fun to play with
Modern doll prams inspire with their detailed design, which makes them look confusingly like the big prams. They allow children to develop their care and imagination by becoming a loving doll parent. The top priority for Götz is the quality and functionality of the doll prams so that the little doll parents can feel entirely like adults. With the height-adjustable fabric handles, children can push the doll's pram upright, promoting their motor development.

Götz also relies on easy-care and safe brand quality to ensure your child will enjoy their lovingly designed Götz doll's pram for a long time. Therefore, stability and simple, child-friendly handling through movable front wheels and a removable carry bag are just as important as the fashionable aspect. We only use easy-care, washable and robust materials that meet high standards. We also supply doll prams with accessories such as a cushion, blanket and bedding for creative play.


Functionalities of the doll's pram: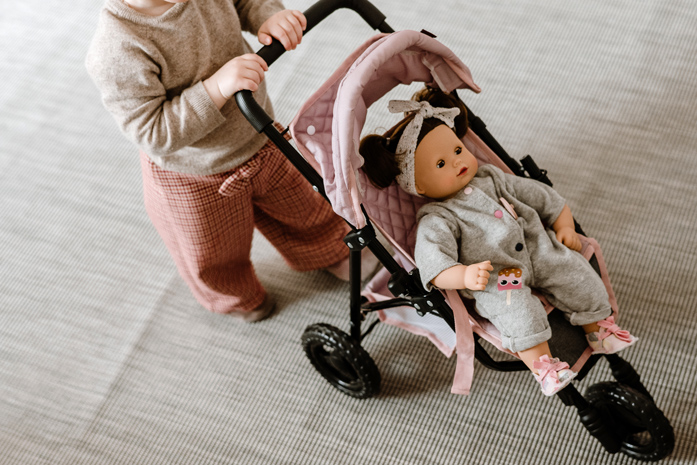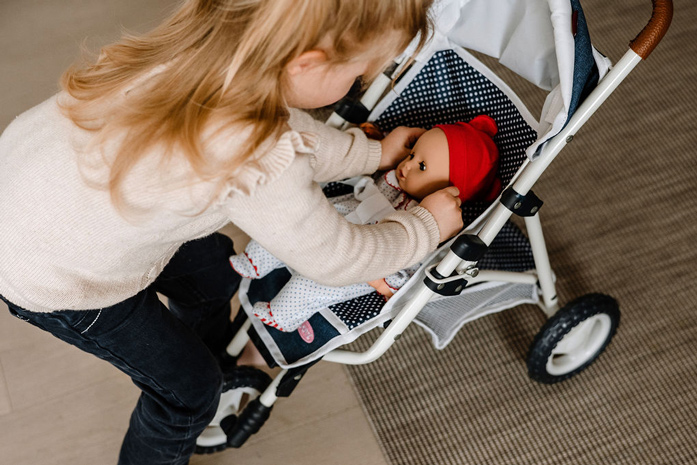 Doll's Buggies: practical and handy travel companions
Doll's buggies are characterised by their manoeuvrability and lightness. In contrast to the doll's pram, the doll's buggy is lighter, smaller and easier to manoeuvre, which makes it particularly suitable for younger children. The 3-wheel doll buggies by Götz are easy to assemble and fold. So they are the perfect travel companion for children and dolls and convincing with easy and playful handling. Available in several designs, but always with the special Götz doll buggy features:
Lightweight and portable: Doll buggies are made of lightweight material, which makes it easy for children to carry and push them around.


Compact design: All Götz doll buggies have a foldable and compact design, making them easy to store and transport. This also makes them ideal for use on the go or when travelling.


Easy to use: Doll buggies have easy steering due to the 3-wheel axle and are easy to handle, making play more enjoyable for children.



Features of the doll buggy:



Accessories for doll buggies and doll prams
Accessories for doll buggies open up a fascinating world of creative play for children and provide even more fun with their beloved dolls. There are a variety of doll accessories that transform the doll's pram and doll's buggy into a little mobile play station. Essential doll basics, starting from doll clothes, such as cute rompers, to bottles, blankets and nappies, must not be missing. Götz offers enough space to store the necessary accessories with a storage basket on the doll pram. This makes the outing fun for new dolls' parents complete!


Advantages of the doll's pram and buggy in promoting development and creative play
Buying a Götz doll's pram not only brings play and fun into the child's room.
A doll pram or buggy also promotes many skills and abilities.

Children take loving care of their dolls and learn through play that caring is important for living together in a family, especially when little brothers and sisters are on the way.
Götz doll's prams and buggies also offer many other educational and developmental benefits:
role play and imagination: doll prams encourage children to use their imagination and play role games. They can take on the role of parents and learn to take responsibility and care for others.


fostering social development: when children play with friends or siblings, they can put their dolls next to each other in the buggies, have fun together, and develop social skills such as cooperation and communication.


motor skills: Pushing and steering the doll's pram develops children's fine motor skills and hand-eye coordination.


independence: children can learn to handle the doll's pram independently and use their imagination to design scenarios and play creatively.


learning to walk: Doll's pram models can also support the child's first steps, as they are an ideal walking aid. Little ones pull themselves up by the soft doll's pram handle and practise their muscle strength and balance step by step. The rubber doll pram wheels provide good traction so children can move slowly and safely. However, parents should always be nearby to provide support in bumpy spots.



Overall, all Götz doll's prams and buggies offer a wonderful opportunity for children to exercise their creativity, develop social skills, and have lots of fun playing.


Four tips for buying: What to look for when choosing a doll's pram or buggy
When buying a doll's buggy or pram, there are a few features to look out for to bring long-lasting fun into your child's room. Anke Götz-Beyer recommends paying particular attention to these four points:
material and quality: choose a doll's pram made of robust material. The workmanship should be high quality so the toy lasts long and ensures long-lasting playtime fun. Götz doll prams and doll buggies are made of durable and high-quality material. The covers are removable and washable.


Mobility and functionality: Make sure that the doll's pram has height-adjustable handles so that it can be adapted to your child's height. An ergonomic height is important so the child can push the pram comfortably. Götz offers prams with height-adjustable fabric handles that can be adapted to the child's height (approx. 58 cm to 80 cm).


safety: check that the doll's pram is stable and meets the children's toy safety standards. All doll prams and doll buggies from Götz meet the company's strict safety and quality standards. In addition, they are tested for harmful AZO dyes and toxic softeners according to the European toy standard EN-71 part 1-3 for children from 36 months.


storage space: A spacious shopping basket or a bag on the doll's pram offers room for the doll's accessories that absolutely have to come along. All Götz models have a storage basket.