Götz dolls are sustainable because…
... every Götz doll may be repaired. Has your doll a blemish, an illness or other injuries we take care of her/him in our Götz doll hospital. Besides the doll, please fill in the hospital admission form and enclose it.
This is important for us as this helps to analyse the damage.
... it's never boring with Götz dolls. They are very changeable as they are not intended for a particular purpose.
The wide range of accessories provides plenty of variety.
... thanks to our high quality aims Götz dolls are very durable. A doll may easily be passed on or given away and in this way accompany many generations through childhood.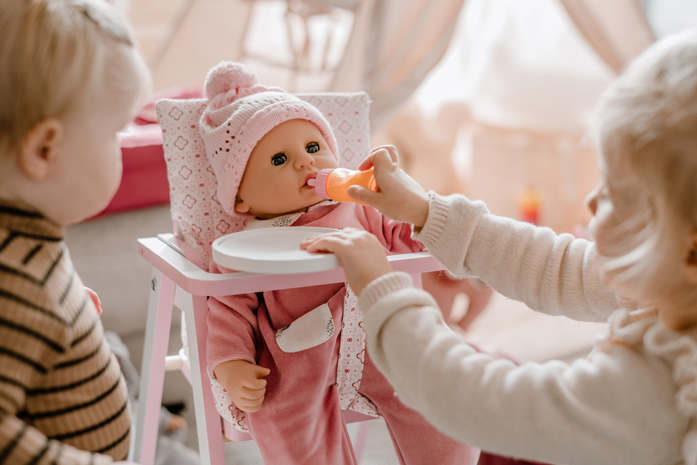 Recognising skills
Your child probably already has interests and preferences when it comes to the world of play. Your child's personality, the age and the environment also have a strong impact on the free play.
The Götz doll world is characterised by its sustainable handling of creative play. Our doll world is created to easily set up a varied world around the doll and your child's skills.
Your child grows, learns and discovers new skills.
This is why toys should also be adapted to their demands.
Giving sustainably
Giving a gift is not the easiest thing in the world.
Not everything that the parents think is great also finds a place in the little ones' hearts.
Giving sensibly and sustainably is the motto. Also, the gifts should inspire creativity, cognitive thinking or even motor skills.
Wish lists are a good help for all gift-givers.
Ask the child and think together with the little ones what would really be a great gift and what would be appropriate right now.
This is how you, together with Götz, create a world of play at home, which allows creative play, is sensible and fun!
Gift tip for godmothers & Co.
You can find a little booklet with QR-code in our doll cardboard packaging.
Simply scan it and you will get to the suitable accessories of your little ones' doll.
Giving may be just as simple as that!
Photos by Almuth Denz and Deniz Ergöz