Sweet things in the carnival season...
---
Just as funny streamers, creative costumes and colourful make-up Krapfen are part of any carnival season. As little sweet treat at the carnival party or in the break of the costume contest. We have a simple donut recipe for you as homemade tastes best.
That's what you need:
Preparation time: 180 min.
200 ml milk
1 tsp. sugar
1 yeast cube
5 egg yolks
50g sugar
60g soft butter
1 pinch of salt
1 package vanilla sugar
jam for the filling
1.5 litres oil for frying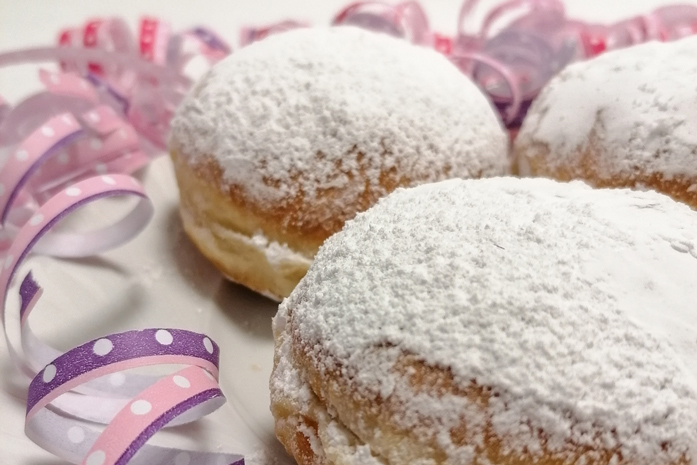 What to do:
1. Warm up the milk lukewarm. Add yeast and 1 tsp. sugar and let the dough leave in a warm place for around 10 minutes.
2. Add flour to a bowl and knead with yeast milk, sugar, egg yolks, butter, salt and vanilla sugar to a dough. Cover the bowl and leave in a warm place for around 1 hour.
3. Flour the surface generously. Now knead the dough well and roll it out around 1 cm thick. Next, use a glass to cut out circles of the dough and place the dough-pieces on a baking sheet which is floured richly. Leave the dough-pieces for another hour.
4. Heat up the oil to around 160-170 d C and start to deep-fry the dough balls in portions and turn them around. Take out the sputtered dough-pieces and let them cool on paper towel.
5. At last, fill in the jam by using a piping bag with small spout. Put it in sidewards to fill the Krapfen with jam. Sprinkle them with powdered sugar and enjoy your carnival donuts!
perfect for the next carnival party
Photo by Gerold Hinzen on Unsplash