Play. Style. Give - Doll quality from head to toe
---
With a Götz doll you decide on high quality standards with a seal of quality and tested safety. We guarantee that children don't get in contact with softeners and AZO dyes when playing with our products. This also applies to all of our garments and our full collection of doll accessories. Children may have the creative time of their lives when playing with our dolls - in safety. Our dolls' neutral expression enables your children to feel understood in their mood, no matter if it's joy, sadness, disappointment or anger.
A Götz doll is a friend throughout childhood and beyond that in many cases.
With our dolls you will give valuable and reliable playmates for many happy childhood memories and a healthy development .
We abstain from all redundant amenities caused by electronic functions in order to encourage creative & free play.
Quality and safety
---
All materials used are tested according to strictest guidelines. They are AZO FREE. Of course we refrain from using poisonous plastic softeners
(Phthalate) in all our product.


Tested according to eurpean toy regulatios EN-71 part 1-3t: All our products meet the actual european regulation EN-71 part 1-3.


No AZO: All materials used used are free of AZO.


No Phthalat: All materials used are free of phthalates. Phthalates are suspected to support cancer.


Handcrafted dolls: Our handcrafted dolls are manufactured to highest quality standards. They are numbered and limited in production. Their faces are created by worldrnown doll artists. The quality seal and certificate assure quality and authentcity of the Götz handcrafted doll.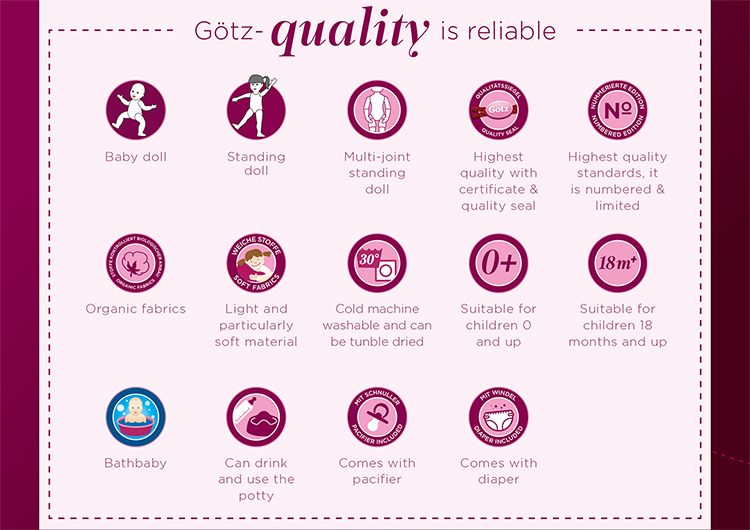 Loving manufacture
---
Thanks to our high quality standards, our Götz dolls are very durable.
We put emphasis on designing the look, carefully processed doll clothing, washable hair, dolls & wardrobe.
Faces: Their beautifully sculptured faces and expressions speak directly to every doll mum. With their personality and their charm Götz dolls capture the heart of every girl. Superior quality and design provide a lifetime of love. Let yourself be captured by the world of Götz dolls.
Hair: Only high-quality hair with natural look is used. This hair has been developed especially for us. It is rooted into the scalp and is thus easy to care for. Children can easily wash, style and brush it. Some of our Baby dolls also have painted hair in order to give appearance of a newborn's hair.
Eyes: We are only using high-quality eyes that are either inserted by hand or painted. Our lashes are specially produced to enhance the natural look of our dolls. Our product lines have fixed eyes, sleeping eyes and painted eyes.
Outfits: The outfit styles of our dolls are always up to the latest trends and are produced witz as much love into detail as children's clothes. Therefore the doll outfits can be washed and ironed.
Body: In our collections Hannah, Happy Kidz, Little Kidz and Just Like Me the doll bodies are completely made of vinyl bodies and soft fabric bodies with babydolls which are filled with wool and/or fine granules.