Classic german cookies - Spitzbuben
The

smell

of

cookies

is

in

the

air

!
---
Warm pastries on cold days – what could be better? And who are the most eager bakers? That's right! Of course the kids.
Baking together is not only fun, children also learn important facts about food and taste. Whether biscuit slices or perfectly cut cookies – at the end they proudly present their achievments.

So get out the apron and the cookie cutters. It's time to bake!
You need:
Time to prepare: ca. 120 Min.


300g Flour
100g Ground almonds
150g Icing sugar
1 Pinch of salt
1 Pack of vanilla sugar
200g butter
1 Egg

Additional:
200g red- or blackcurrant jelly
Icing sugar to dust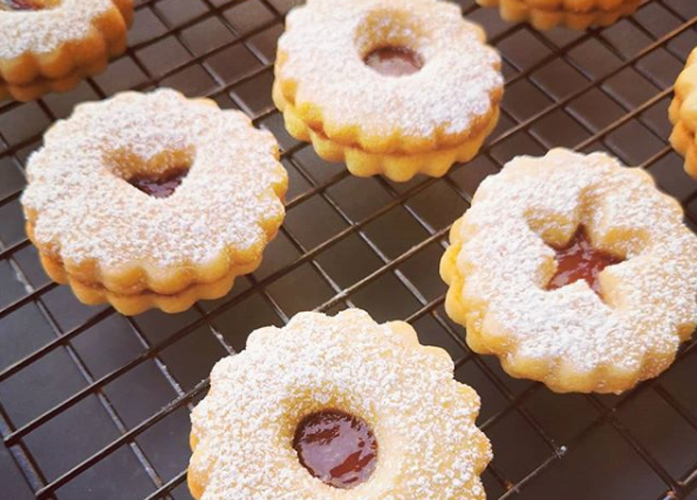 Let´s start:
1. Put flour, almonds, icing sugar, salt, vanilla sugar, butter in flakes and egg in a bowl and knead to a smooth dough.

2. Form the dough into a ball, wrapped in foil to cool for 1 hour.

3. Preheat the oven to 180 degrees. Knead the dough, cut in half and roll out thinly on a floured surface.

4. Cut out the biscuits and place on baking trays lined with baking paper. Cut small holes, hearts or stars into each other with a small cutter. Cool baking tray with biscuits for about 15 minutes and then bake in the preheated oven for about 10minutes.

5. Let the biscuits cool and dust the perforated biscuits with icing sugar. Stir the jelly and spread on the inside of the non-punched biscuits. Place 1 perforated cookie on each and press a little.
Fotos von Shortgirl Shortbread auf Unsplash und "tubas kitchen" auf Instagram